Whilst every single customer that comes to visit us is very special and important to us, we often get asked about the "Dream Cars" that we get to work on. So we have put together a small collection of some of our favourite, and more memorable vehicles that we get to see from day to day, along with a few of the more unusual cars that our friends often seem to turn up in.



Bentley - "Brooklands" Limited Edition 1995


The Multimedia Installation to this Bentley is featured on our Projects page



Bentley Mulsane Turbo


The build quality of these cars is simply stunning



Chevrolet Camaro


The exhaust note from this car was just awesome



Chevrolet Truck - Fusion Parts Chaser


Fusion have so many vehicles here, they have asked for their own parking space !!



Chrysler - 300C


How to make a 300C look like a Bad Ass Drug Dealers car !!



Ferrari 348


There is certainly something captivating
about a bright red Ferrari.

Whether it`s the performance,
the sound of the engine,
or the impact of the bright red paintwork,
you just have to stop and take a good look.

Ferrari 348 GT Competizione - 1994


Possibly one of the rarest Ferrari`s we have ever worked on.

The Ferrari 348 GT Competizione was only produced as a limited edition of fifty cars, 42 left hand drive,
and only 8 right hand drive cars, of which this is one, making it a very rare car to find indeed.


Subtle differences to other 348 models were Speciale paint, split rim Speedline wheels unique to this model, enamelled Scuderia Ferrari shields on the front wings and "348 GT competizione" badging on the rear bootlid. Inside, it had red cloth covered Kevlar racing seats (more like Challenge seats than the reclinable buckets in the Speciale), Kevlar sills, drilled aluminum pedals, and a unique steering wheel labeled "348 GT competizione" above the prancing horse, with a set of crossed flags and the number in the series (i.e. 16/50) below.



Ford - Monster Truck


Certainly not just a high rider built for looks !
We are reliably informed by the owner that this vehicle has Crushed and Killed !!



GP LDV - Beach Buggy


A regular visitor to our showroom, this very famous Beach Buggy was used
to launch a VW Magazine and appeared on the front cover of Issue 1
( I just can`t remember which one !)



Harley Davidson - F 150


Who said Harley Davidson only made Motorcycles?



Ish Ferrari F355


One of My Own Cars

A winner of countless awards at various car shows over the years, including Best Paintwork at the famous Doncaster Custom show, and has featured in quite a few magazines.

More can be seen on our projects page.

Jensen Interceptor 1973


One of my all time favourite clasic cars !!



Lamborghini Diablo - Quattrovalvole - 1997


Not just any Lamborghini Diablo, but a very rare Quattrovalvole
identified by the small raised air intakes on the roof.



Lancia Integrale 1982


I had to be physically restrained against putting the Martini Stripes on this car
I think a white Integrale looks naked without them.



Noble - 2002


The best thing to happen to a V6 Mondeo engine !



Pilgrim Sumo - 2000


A very nice replica of the AC Cobra



Porsche 928 - 1981


You don`t see many Porsche`s that are seven feet wide !
This one was my own car, and more can be seen on our projects page.



Quantum H4


A beautifully crafted Kit Car that can be likened to a giant Airfix kit, and based / built around a Ford Fiesta.

More can be seen on our projects page.

Renault Twingo : Autotek Demo Car


| | |
| --- | --- |
| | |
| Usually found touring mainland Europe, it found its way over here, and just had to come and see us. | |

1985 Vauxhall Astra GTE: Motorsport Team DND


Darryn`s ambition to become
a Top Class Rally Driver took
another step forward, when we
agreed to sponsor him for
2001.


Volkswagen Beetle - Fusion Demo Car


This three ton concrete lined VW Beetle spent a good few weeks at our workshop
and is one of the loudest cars in the UK!



Volkswagen Golf GTi


One of my own Fusion Demo Cars

Such was our involvement with
Fusion, that we built our own
SPL Demo Vehicle.

It featured on Granada TV`s
" Men and Motors "

Winnebago - Terry Grant (Stunt Driver)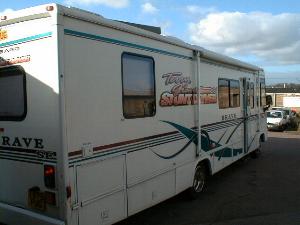 If you have ever been to any of the Max Power or similar style events, then you
will have almost certainly seen our good friend Terry Grant doing his Stunt Show.

Now we know why his driving is so good, its because this is his other vehicle,
and trying to park is definately not for the feint hearted!!

(You would not believe how long it took me to reverse park this here !)